Martingale Style Collars Available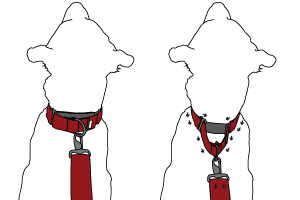 A martingale collar is a type of collar that allows for more control than your standard traditional collar. The collar itself is essentially a regular adjustable collar with an extra piece of webbing attached, which your leash attaches. When your dog pulls forward into the collar, this extra loop of webbing automatically tightens the collar, putting even pressure around the dog's neck as well as tightening it so they are not able to slip out of it.
Shop: Martingale Dog Collars
Don't want to design your own? Choose from one of our pre-designed Side Release or Martingale collars.
Stop the jingling tags by choosing a personalized dog collar.
Want to show of your dog's unique style … or even your own? Looking for a custom dog collar that is different from all the other ones you see at the dog park?
Create a customized dog collar at IfItBarks.com! There are more than 1 million (yes, million!) style and color combinations to choose from as your create your custom pet collars.
Are you a fan of vibrant colors or more muted tones? We've got you covered! Does your dog look and behave better in a wider collar? Check! Do you have a smaller dog who really loves a thinner dog collar? They will pawsitively love our custom dog collars!
Designing customized dog collars is simple at If It Barks:
Select whether you'd prefer a martingale dog collar or a side-release dog collar
Choose the width and base material (nylon or hemp)
Select your color and a few other options
Viola … you have a custom dog collar!
And it gets even better … during the design process, you can also include a matching custom dog leash! What better way to show off your style than custom dog collars with matching dog leashes?
Our custom dog collars come in three widths and four sizes allowing you to find the perfect fit for your pup.
Our custom dog collar materials are sourced in the USA and each product is hand-sewn in North Carolina by our seamstresses.
If you have any questions as you design your custom pet collars, do not hesitate to let us know. We are here to help!