What is a Martingale Collar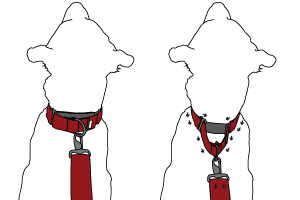 A martingale collar is a type of collar that allows for more control than your standard traditional collar. The collar itself is essentially a regular adjustable collar with an extra piece of webbing attached, which your leash attaches. When your dog pulls forward into the collar, this extra loop of webbing automatically tightens the collar, putting even pressure around the dog's neck as well as tightening it so they are not able to slip out of it.
Learn More: What is a Martingale Collar?
What Trainers are Saying
For health and safety reasons, these collars are the best "The main reason I chose If It Barks is their martingale collars and the effectiveness in teaching leash training. The collars add control and do not allow dogs to back out. The way the collars fit on a dog, when done correctly, distributes pressure around the entire neck and avoids simply putting pressure on the trachea like a typical dog collar. So, for health and safety reasons, these collars are the best. I use If It Barks collars for all 5 of my dogs"
- Kate Jackson, Trainer Jabula Dog Academy
Looking for martingale dog collars that colorful, vibrant and stylish and also functional?
Martingale dog collars from If It Barks are the perfect solution! Martingale collars are a style of collar that allows for more control than a regular "flat" collar. Add in colors that really pop and you have style that meets functionality!
Why go with a martingale dog collar over a side-release dog collar? Here are a few of the advantages:
Dogs with small heads and larger necks (like greyhounds, bulldogs and pitbulls) are not able to slip out of the collar
If your dog likes to pull on the leash, striped martingale dog collars can provide additional control
Gives a soft correction
It can help prevent hair knotting around the collar area on long haired dogs due to a slightly looser fit around the neck.
If you would like something a little more custom, you can create personalized martingale dog collars.
If It Barks martingale collars are available in striped, layered, webbing and hemp.
Our personalized martingale dog collars materials are sourced in the USA and each product is hand-sewn in North Carolina by our seamstresses.
To learn more about martingale dog collars, click here.